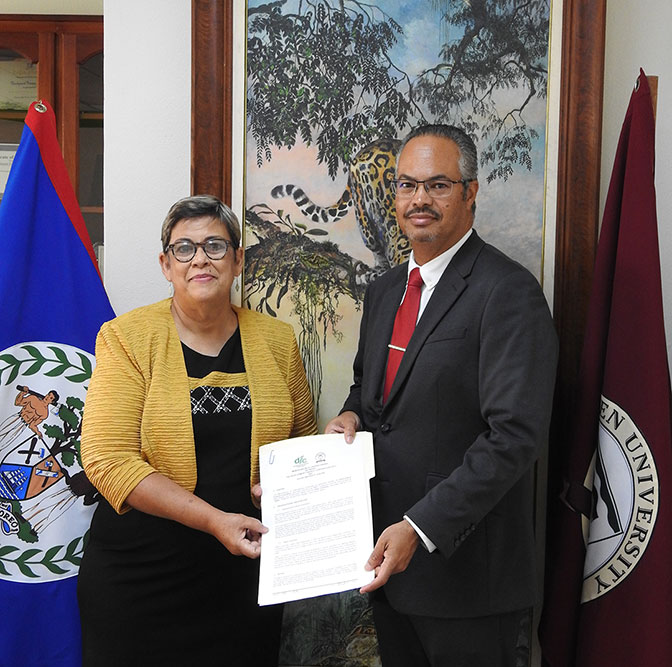 Belmopan, August 21, 2023
On Wednesday, August 16, 2023, The Development Finance Corporation (DFC) and Galen University signed a Memorandum of Understanding which will foster greater cooperation between DFC and Galen for the implementation of a DFC-Galen Student Loan Programme. Through this Programme, loans will be provided to prospective and current university students to assist them in meeting their financial commitments to Galen University.
To support this effort, the institutions will collaborate on Marketing and sensitization efforts as well as information exchange to facilitate more efficient customer and loan service delivery.
Signing on behalf of Galen University was Provost Cynthia Eve Aird Ph.D., and on behalf of the DFC, Chief Executive Officer (CEO) Henry N. Anderson.
CEO Anderson stated, "DFC continues to strive to make financing more easily accessible to Belizean students. This partnership with Galen University helps to achieve this. DFC's goal, always, is to drive Belize's macroeconomic development. Enabling our citizenry to become professionals, make them productive citizens and as such, they serve as conduits to attaining our national developmental goals."
Provost Cynthia Eve Aird, Ph.D shared, "Our collaboration with the DFC will provide greater access for deserving students to our undergraduate and graduate degree programs. We are honored to partner with the DFC in the professional development of our nation-builders."
-End-
For more information:
R Lee Vicente
Manager, Manager – Marketing & Communications
(501) 822-2350 / 2360 Ext. 222