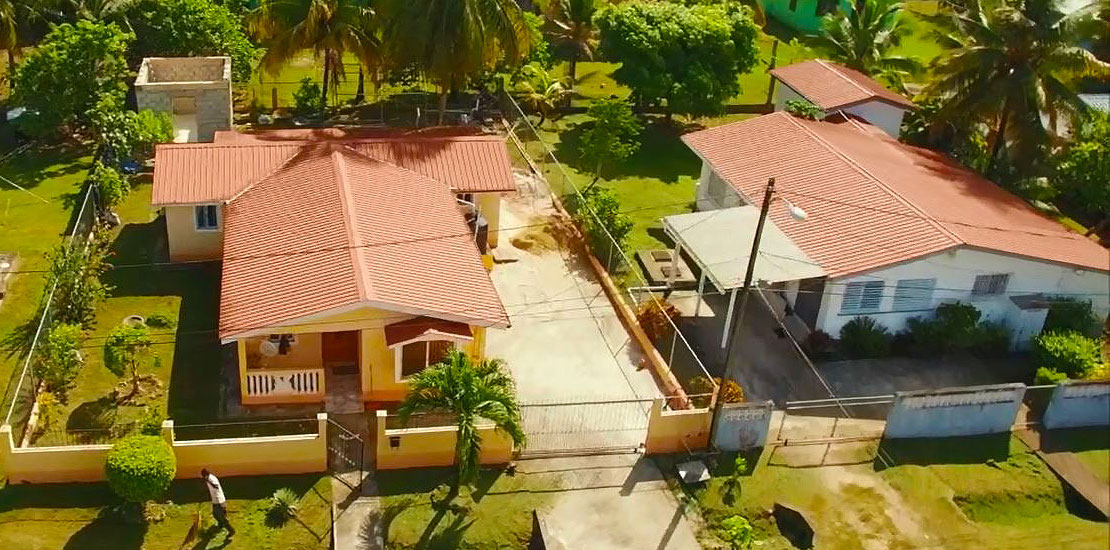 Your home is your life's investment and we want to ensure it will always be yours. This is why DFC offers you TRUE Reducing for the ENTIRE LIFE of the loan. We also offer longer repayment periods to make monthly repayments as affordable as possible for you. Our FREE Property Appraisal and In-house legal service SAVES you HUNDREDS of dollars! See the MANY Benefits DFC provides and know why the DFC is your BEST CHOICE for home financing.
Home Loans for
Build your home
Buy an existing home
Buy house lot first and build later
Home Refinancing
Home Expansions / Additions
Home Security: Fencing, Burglar Bars etc.
Home Renovation and Improvements
What do I need to provide:
Photo ID (Social Security, Passport)
Employment Letter or;
Certified Income Statement (If self-employed)
10% Contribution (DFC provides 90% of Financing)
Land Documents – Title or Lease
Updated Property taxesPLUS
If Building your own Home
Building Plans (Approved by your city/town council or by the Central Building Authority (CBA)
Bill of Quantities (Labor & Material Costs)
If Purchasing an existing Home
Letter from the Seller (State sale price and details of property)
Bill of Quantities (If making improvements to the property)
Approved Building Plans (CBA) (Only if making changes to any exterior walls)
If Renovating or doing other Home Improvements
Bill of Quantities for improvements (Labor & Material Costs)
Approved Building Plans (CBA) (Only if making changes to any EXTERIOR walls)
1 or 2 Guarantors (If cost for improvement is below $15,000)
Land Document (Title or Lease) (IF amount is above $15,000)
DFC's Many Benefits (Click to view)
TRUE 'Reducing Balance' Interest Rate
LOW EFFECTIVE Interest Rate
Loans even for LEASE Properties
FREE Property Appraisal ($300 – $1400 in Savings)
WE HELP YOU – in times of Financial Challenges
PAY LESS for Legal Services because of our In-house Legal Services
Loan Terms Clearly Explained
We DO NOT Increase your Interest rate after a few years.
Up to $200K in financing
Up to 25 years repayment period for new construction.
Up to 200% your gross annual income as Home Financing
Loan fees as low as 2%
EASY to Reschedule
NO Rescheduling Fees
NO Loan Consolidation required
NO Annual Renewal Fees
Building and Life Insurance offered
SAFE Debt Ratio of 35%
Amortization Schedule Provided
Good Loan Approval Time: 5 – 6 weeks
100% Refinancing offered
10% Equity required
Reduce or Cut your electricity bill by investing in Solar Power Lighting and Solar Water Heating. Also get your own water supply by Rain Water Harvesting and invest in Home BioGas. Learn more here.
CHOOSE DFC (Click to view)
True Reducing Balance Interest Rate
DFC offers you TRUE reducing balance Interest rates. As you go repaying your loan and your balance owed reduces, the interest paid also reduces because DFC charges interest on the balance owed.
It is referred to as 'TRUE' because we apply interest in this manner  CONTINUOUSLY, over the entire life of your loan. Other institutions may say they also offer 'Reducing Balance' but it may not be a 'TRUE' reducing balance. This is because of HOW they apply their interest (Eg: On a 12 month basis only and not continuously over the entire life of the loan as DFC does). As such, this means you would pay more in interest.
We accept Lease Properties
DFC is one of only 2 banks that provides you with a Home Loan to build on your LEASE Property.
Loan Grace Period while you build your home.
Pay only the interest while you are constructing your home. This makes it more affordable for you, so you don't have to be meeting your home loan payments AND having to meet rental payments at the same time.
We CARE and HELP YOU in hard times
If ever you fall on hard times and find it difficult to service your loan, as long as you communicate with us immediately, we work with you for you to keep your home. DFC is not in the business of taking away and selling your home. If all else fails and there is no alternative, we may but as a Development Bank, DFC's primary goal is to see to the development, success and security of Belizean home owners and business owners.
FREE Property Appraisal and other benefits only DFC provides
DFC in the ONLY lending institution that provides you with FREE Property Appraisal, saving you hundreds of dollars!
We are the only bank to provide the legal services you need, In-house! This reduces your cost, again saving you money!
DFC has NEVER INCREASED its Interest rate on your home loan as is the common practice with other lending institutions who advertise a low rate to 'Lock' you in, then increase your rate shortly after.
DFC never binds you down by tying or 'bundling' your home loan with other loans.
Honest and Up front with you.
DFC encourages responsible borrowing with our customers. We do not allow our customers to over extend themselves with loans larger than they can afford. As a result, it is clear to see that DFC's foreclosure rate is very low comparative to other institutions.
DFC is up front with you. We explain the loan terms clearly, letting you know exactly what are the loan fees and payments. With DFC there are NO HIDDEN FEES.
Pre approved 2 and 3 bedroom building plans
Via the Central Building Authority (CBA),  the DFC offers very affordable, pre-approved 2 bedroom and 3 bedroom Starter Home Building Plans. See them below.
2 & 3 Bedroom Starter Homes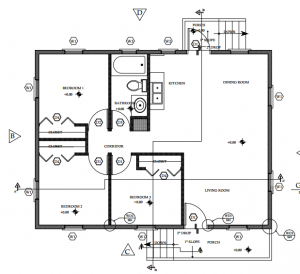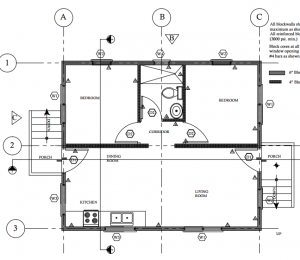 The Central Building Authority (CBA) offers two types of Starter Home housing plans to the public, 2 Bedroom and 3 Bedroom plans.
The 2 Bedroom Plan is 18ft. x 26 ft. (664.10 sq. ft.) and costs a low fee of $164.41 (Build Cost: Aprox. $50K to $60K)
The 3 Bedroom Plan is 24ft. x 32ft. (900.3 sq. ft.) and costs a low fee of $188.03 (Build Cost: Aprox. $75K to $85K)
The fees for both the 2 and 3 Bedroom plans covers the application and permit fees, 3 copies of the house plan and 3 copies of the electrical design.
Payment for the plans are to be made directly to CBA's Scotiabank account no. 870-4203.  Once payment has been made the deposit slip is to be presented to the CBA office along with your land document for lease or title.
NOTE: Plans and construction based upon the plans cannot be modified. If  there is any modification, new custom plans would need to be done at owner's expense. If construction is altered from these set plans, construction can be ordered to stop until new plans are done.
Central Building Authority Office:
117 North Front Street
Second Floor
Belize City, Belize
Tel: (501) 223-2616 or 223-1878
Fax: (501) 223-6269
For more information about the CBA visit their website.