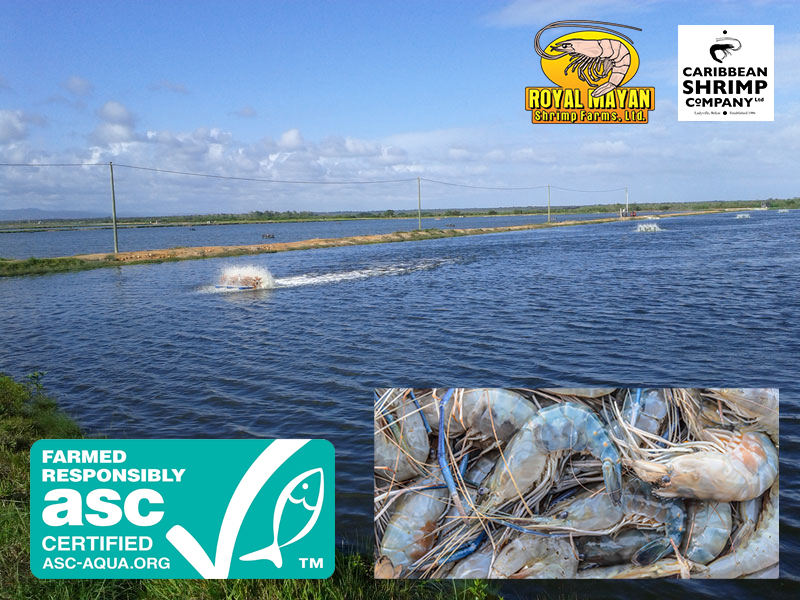 City of Belmopan, Cayo District | August 26, 2022 – The DFC congratulates Royal Mayan Shrimp Farms and Caribbean Shrimp Farm on achieving the Aquaculture Stewardship Council (ASC) Certification Standard.
The ASC Certification is an internationally recognized and respected non-profit organization, which works to make aquaculture more sustainable. Thousands of NGOs, scientists, and industry experts have developed the ASC Farm Standards, which 'certifies environmentally and socially responsible seafood.'
Farms that want to get certified must not harm the environment. ASC Auditors inspect and ensure that farms:
Reduce the use of chemicals and antibiotics
Use feeds from responsible origins
Protect water quality and ensure that illnesses are prevented.
ASC standards also address social impacts such as:
Forced labor; child labor and discrimination are not practiced.
Employees have safe workplaces and are paid fair wages.
Farms must also care for communities and hire local workers where possible, and;
Ensure to maintain access to important resources including clean water and fishing grounds.
Both Royal Mayan Shrimp Farms and Caribbean Shrimp Farm were audited and deemed to be clean, safe, and fair business operations. Given ASC Certification is recognized globally, this certification will likely increase the demand for Belizean-grown shrimp products, increasing exports and sales for these Shrimp Farms given the guaranteed standard of quality they provide.
Mr. Alvin Henderson, Managing Director of Royal Mayan Shrimp Farms stated, "This ASC certification was rigorous. With Royal Mayan Shrimp Farms now being re-certified, it allows the Company to access premium prices in the European Market. I must acknowledge Compete Caribbean, the Mesoamerican Reef Fund (MAR Fund), and the World Wildlife Fund (WWF) who aided in this exercise and provided funding for this costly process."
Mrs. Heather McIntosh, Principal owner of Caribbean Shrimp Farm noted, 'One of the key components which enabled Caribbean Shrimp to achieve ASC Certification was the amount of electricity consumption needed per pound of shrimp produced. Our investment in a Solar Photovoltaic (PV) power system, which was financed by the DFC, positioned the farm to meet and exceed this component of the ASC Farm Standards. Without it, certification would not have been possible." She concluded, "Investing in Solar is a stepping stone for new opportunities. Energy Efficiency and Renewable Energy (EE/RE) is the way of the future, and now that the farm has returned to full operation and production we are now reaping the complete benefits of generating most of the electricity the farm needs, from solar energy."
DFC's Ag. Assistant General Manager, Lending Operations, Mrs. Judith Leslie stated, "Both Shrimp Farms are projects supported by the DFC. This achievement by these farms is in line with DFC's Strategic efforts as Belize's development bank, to finance and support businesses in Belize that aim to be economically, socially, and environmentally resilient operations."
This is also very important for consumers in Belize and Internationally. When shopping, consumers can choose to support fish farmers who act responsibly towards people and the environment by choosing products that carry the Green ASC Label.  Consumers can also ask and dine at Restaurants that serve ASC-sourced seafood.
-End-
For more information, contact:
Hipolito Bautista
Marketing Officer | Marketing & Communications
hipolito.bautista@dfcbelize.org
822-2350 / 2360