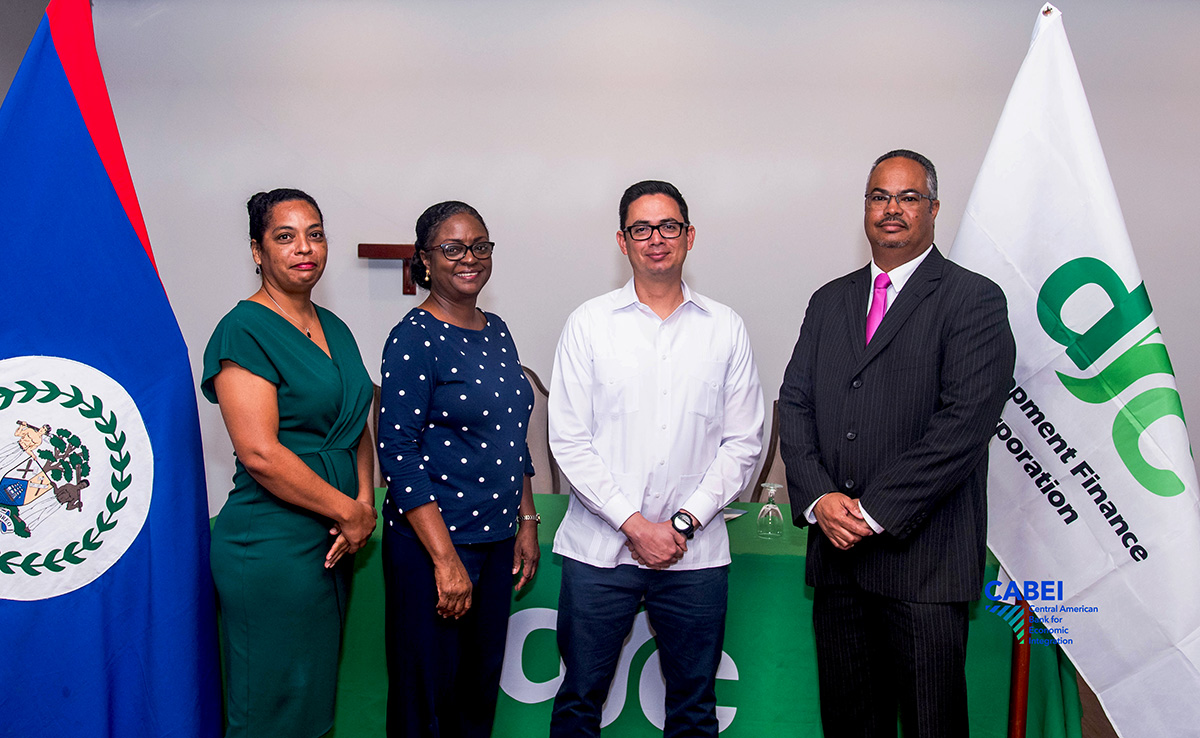 L to R: Vanessia Burke, Corporate Secretary, DFC | Natalie Ewing Goff, General Manager, DFC | Elan Tabora, Chief Country Representative, Belize & Honduras, CABEI | Henry N. Anderson, Chairman, DFC
On May 5, 2022 a signing ceremony for a Memorandum of Understanding (MOU) was held in Belize City, between the Development Finance Corporation (DFC) and the Central American Bank for Economic Integration (CABEI), formalizing the establishment of relations between the two institutions. The MOU seeks to formalize a framework for cooperation to facilitate collaboration on financial and technical projects by the two institutions.
Headquartered in Honduras, CABEI is a multilateral development financial institution of an international nature, established to promote the economic integration and the balanced economic and social development of the Central American region, which includes founding countries and non-founding regional countries, of which Belize is a non-founding member. DFC's mandate, as Belize's only development bank, is the economic and social development of Belize. The MOU is the precursor for the facilitation of joint activities for innovative projects that can be implemented in Belize for greater social and economic impact.
Signing on behalf of the DFC was General Manager, Mrs. Natalie Ewing Goff and on behalf of CABEI, was Mr. Elan Tabora, Chief Country Representative for Honduras and Belize.
In his remarks at the ceremony, Mr. Tabora reiterated CABEI's desire to collaborate with DFC in helping CABEI to expand its economic and social footprint in Central America through greater participation of developmental projects in Belize, with benefits accruing to both organizations.
DFC's Chairman, Mr. Henry N. Anderson also delivered remarks, sharing that, "the DFC does a subset at the national level, of what CABEI does at the regional level. DFC can help CABEI, as it seeks to establish a footprint in Belize, to understand the economic and social forces at play and also serve as a link to the wider CARICOM region." "CABEI," Chairman Anderson stated, "can provide technical collaboration for DFC to grow."
Immediately following the signing ceremony, representatives of the DFC, comprising directors and senior executives, met to discuss areas of cooperation that will be pursued further.
DFC expresses sincere gratitude to CABEI's President Dr. Dante Mossi, and his Board of Directors for seeing the opportunities for collaboration. The DFC's also thanks Mr. Tabora, who has already commenced the process of collaboration with DFC's management. The DFC also thanks the Government of Belize, CEO Dr. Osmund Martinez and the staff of the Ministry of Economic Development, for facilitating an initial meeting with CABEI in January 2022, which resulted in the signing of this CABEI – DFC Memorandum of Understanding.
-End-
For more information, contact:
Hipolito Bautista
Marketing Officer, Marketing & Communications
822-2350 / 2360
hipolito.bautista@dfcbelize.org