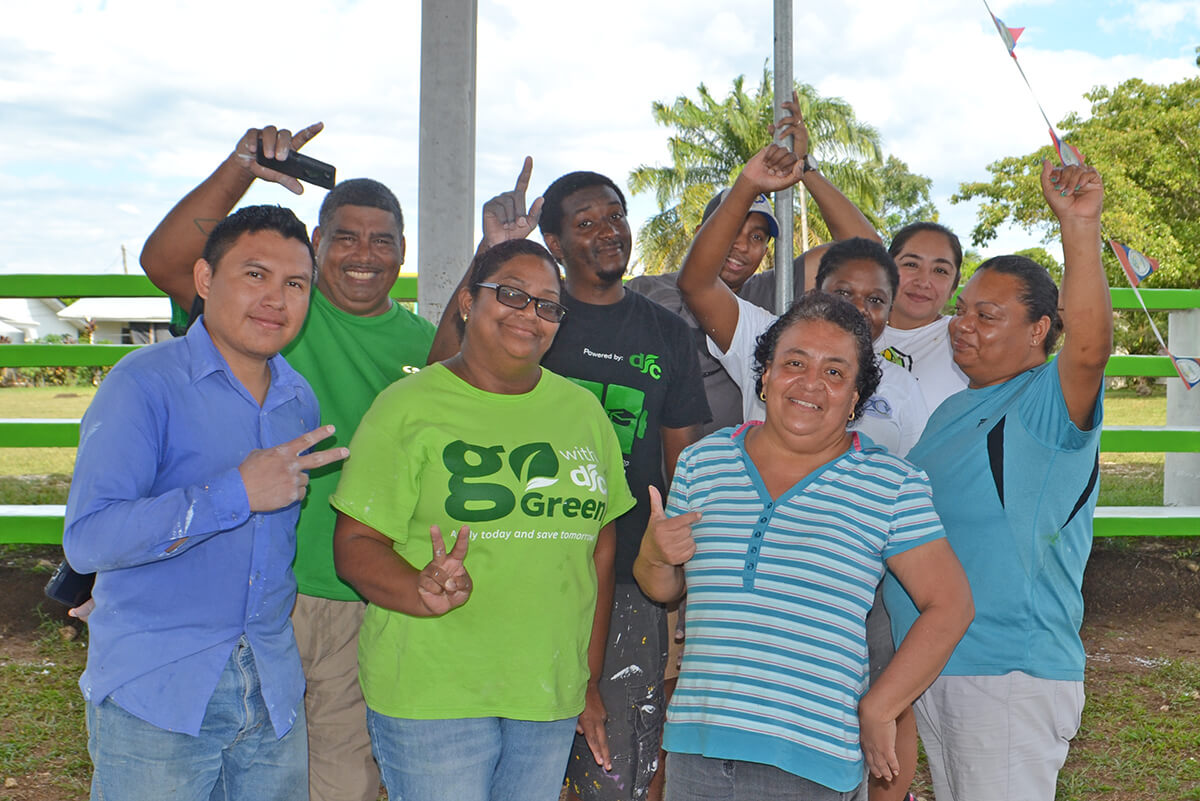 Today, September 19, 2019 The staff from the Development Finance Corporation (DFC) headquarters, Belmopan, staff of our Corozal Sub-Branch and our Southern Branch, Dangriga, partook in activities to commemorate National Service Day, a day honoring the memory of the father of our nation and one of Belize's servant leaders, the Right Honourable George Cadle Price.
This year, some staff of DFC's Headquarter office volunteered and partnered with the Belmopan City Council for the planting of 25 'November Shower Trees' at the Mae Gordon Park in Belmopan. DFC's staff also gave the park a refreshed look by giving the park's stadium bleachers a fresh, vibrant coat of paint!
DFC staff planted 9 of the 25 total trees! With other community participants such as 'Sprout Preschool' and others planting the others.  The trees were provided by former Belmopan Mayor, Anthony Chanona at a significantly reduced price of only $20 per tree; the DFC and the other participants purchased the trees and planted them in honour of family members and for DFC, in honor of a few of our colleagues who have passed on.
National Service Day is a day to recognize the power of, and encourage selfless service towards our brothers and sisters and to our communities in our continuous efforts to build each other up and to collectively, build a stronger nation.  It must be remembered though, that everyday presents an opportunity for Belizeans and Organizations to undertake acts of kindness and consideration for one another and to contribute possitively to our communities.
DFC's Corozal Sub-Branch did just that! Our Corozal staff donated 6 baskets of school supplies to a few of the most needy Primary school students of San Antonio Village Primary School. The students were selected by the principal and teachers. The school was very grateful for the donation to the students.
Rt. Hon. George Cadle Price once stated, "Creation was not finished at the dawn of this earth, but creation continues, and we have a lot to do to make this world a better place."
DFC's Dangriga Branch donated much needed supplies to Stann Creek Palliative Care, a community organization founded in 2012 by a group of retired citizens of Belize to support patients and families with Palliative Care and hospice needs.
DFC's other branches in Belize City, Orange Walk and San Pedro will also be undertaking initiatives to help others in their communities.
Mother Theresa had said, "If you want world peace, go home and love your family."
This underscores the fact that great achievements are not made by grand efforts but by the small things we do daily. Let us always strive to see the humanity in each other and care and love for each other as much as possible. Only so can we make this world a better place.
Happy National Service Day Belize!