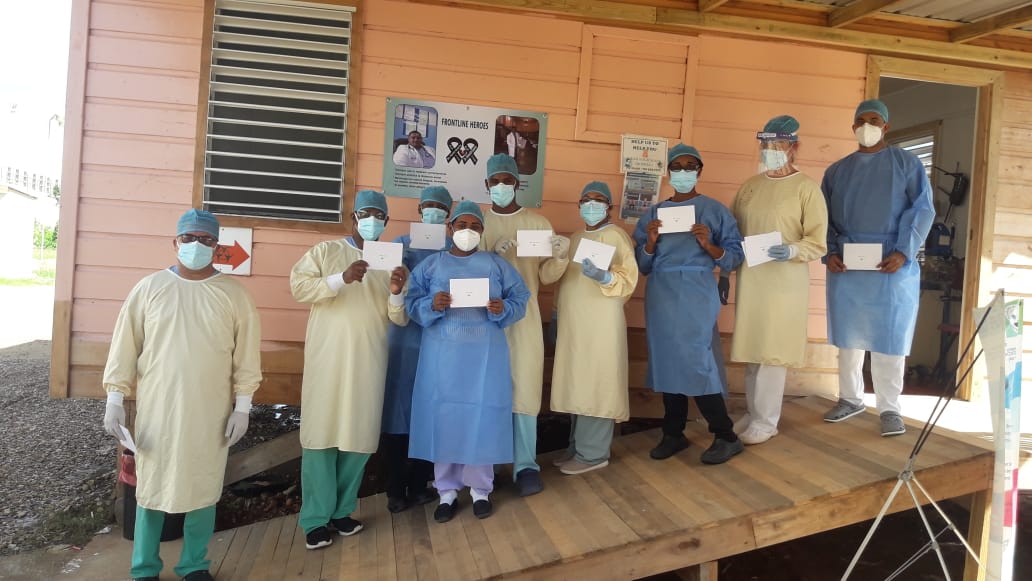 Click image above to view short video on youtube.com
December 23, 2020 – Today the Development Finance Corporation (DFC) in gratitude and recognition of the selfless work and commitment of Belize's Front line workers handed over 96 gift cards to Front-Line Medical Workers and Laboratory Staff in Belmopan and Belize City, respectively.
Receiving this small token of appreciation in Belmopan was Matron Bernadette Rivas, Nurse Administrator of the Western Regional Hospital, and Nurse Rosalva Blanco, Nurse Specialist and Chair of the Covid-19 Response Team at the Western Regional Hospital. Gift Cards were provided to 53 frontline medical workers at this institution who are providing direct service in the fight against covid19 and comprise medical doctors, nurses, patient care assistants, attendants, and domestic workers. "We recognize your work, we know that it is very difficult what you are doing and we are thankful for the services you are giving to us," noted Ms. Flora Usher, Acting Manager, Human Resources & General Affairs who did the handing over in Belmopan. She concluded, "Stay strong. Stay Healthy. And thank you for everything you are doing for us."
In Belize City, Mr. Aldo Sosa, Senior Medical Technologist of the Belize Central Medical Lab received the gift cards for 43 laboratory staff of the Belize Central Medical Lab. DFC's General Manager, Mrs. Natalie Ewing Goff did the handing over which recognized the critical role they play and for their tireless efforts working behind the scenes.
This contribution was made possible through the thoughtfulness of DFC's staff who chose to forego their Christmas Social and instead, donate the allocated funds to this cause.
– END –