City of Belmopan, Cayo District | June 1, 2023 – The Development Finance Corporation (DFC) known for loan product innovation and provision of business support to businesses small and large, announced that its "Empowered Business Loans (EBL)" was named the winner of the ALIDE Award 2023. ALIDE, the Latin American Association of Development Finance Institutions (DFIs), is the international organization that represents Latin American and Caribbean development banking since 1968. 
This award is for the recognition of best practices in development financial institutions, in the category "Support for Women Entrepreneurs" in recognition of its contribution to supporting women and young people to access financing and financial assistance, and, at the same time, with the provision of free evaluation of commercial and property projects.
The award was presented to the Development Finance Corporation by ALIDE at the 53rd ALIDE General Assembly Awards Ceremony in San Pedro Sula, Honduras on June 1, 2023. The Regional Award gives DFC recognition among other Development Finance Institutions in Latin America and the Caribbean. DFC is being represented at the meeting by its Chief Executive Officer, Henry N. Anderson and Chief Lending Officer, Shanelle Reneau.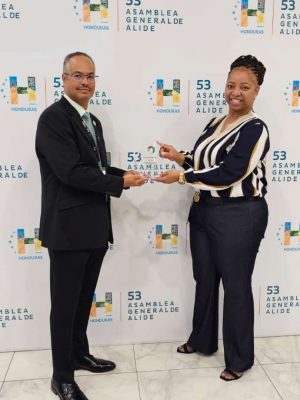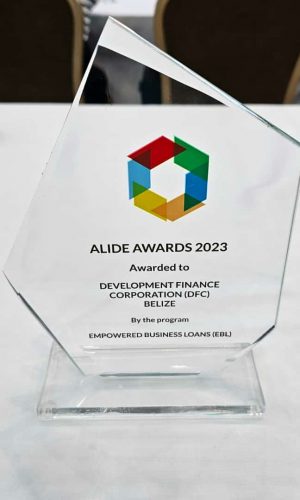 ALIDE AWARDS is the contest that distinguishes the best practices of ALIDE member Development Finance Institutions and was first held in 2008. This year it celebrates its sixteenth edition with the ALIDE Awards being granted in six categories: Financial Products; Technological Management and Modernization; Information, Technical Assistance and Social Responsibility; Extra-regional Bank; ALIDE Green Prize and Prize in Support of Women Entrepreneurs.
ALIDE is the community of financial institutions that produce banking solutions for Latin American and Caribbean development. Founded in 1968, its main purpose is to contribute to the region's economic and social development by promoting the use of good development finance practices among its members. It is comprised of more than 80 member institutions operating in over 20 countries of Latin America and other regions of the world.