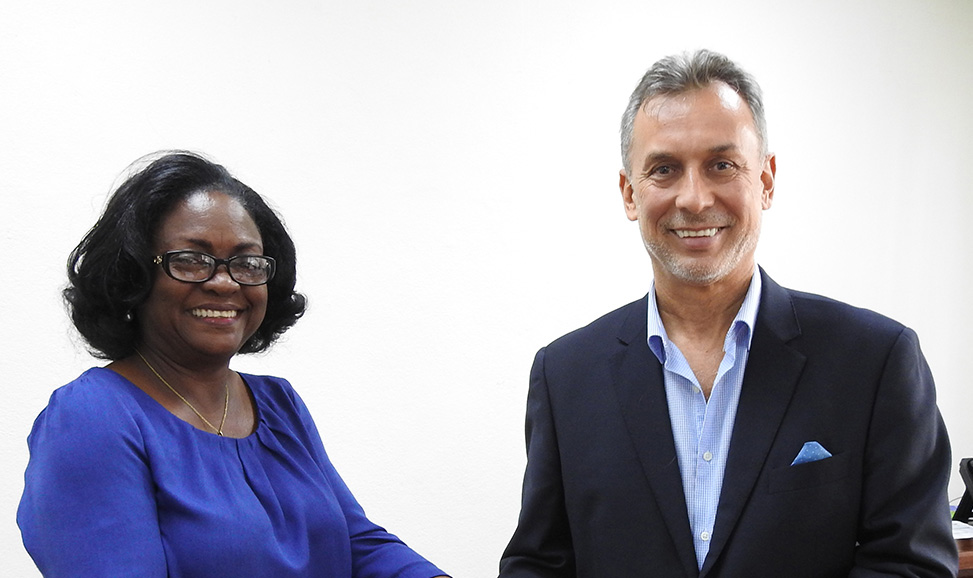 On Thursday, August 7, 2019 the General Manager Natalie Ewing Goff and DFC's Executive Management team welcomed Mr. Edgardo Alvarez and his spouse to the DFC.
Mr. Alvarez, Secretary General of ALIDE (Asociación Latinoamericana de Instituciones Financieras para el Desarrollo (The Latin American Association of Financial Institutions for Development) and spouse, were visiting from Lima, Peru, where ALIDE is headquartered. He is conducting a regional tour, visiting several financial Institutions in the region.
Mr. Alvarez visited to share ALIDE's numerous 2019 and 2020 initiatives and how the association can be of value to DFC, as a continued member of ALIDE. In his presentation Mr. Alvarez highlighted ALIDE's regional and international network, reach and the many training and knowledge sharing benefits derived by ALIDE members.
Mrs. Ewing Goff and DFC's Executive Management expressed their gratitude to Mr. Alvarez for taking the time to visit the DFC and expressed that DFC may be able to encourage other Caribbean based Financial Institutions (FIs) to also join ALIDE.
Executive management also shared their insights and thanks. After a short discussion, Mrs. Goff and Mr. Alvarez exchanged tokens of appreciation.
Mr. Alvarez and Mrs. Alvarez will be enjoying a short stay in Belize as they explore San Ignacio town and Caye Caulker, before departing Belize on Sunday.
-End-
View more news from DFC here.