March 16, 2018
Category:

News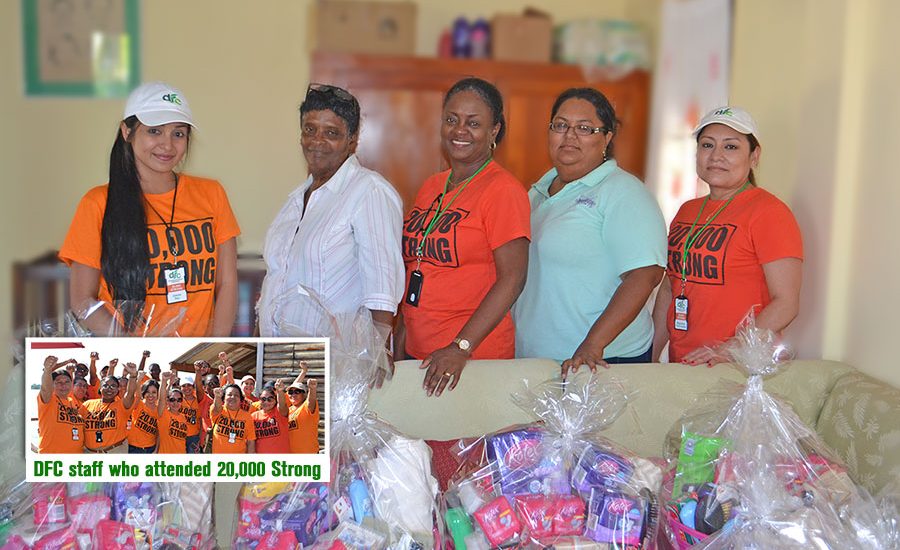 In commemoration of International Women's Month and in support of the 20,000 Strong initiative, the Development Finance Corporation (DFC) donated needed items to Haven House, a safe home for women and their children who have been victims of domestic violence.
The donation of home and personal care items helps Haven House to provide for the women and children. 'Very often, the women arrive without belongings,' stated Mindy Pratt, Program Coordinator for Haven House.
The Home provides refuge, counseling and life-skills training, often for several families for up to three months at a time. Haven House also donates items to the women which helps them to generate their own income, lessening financial dependence on those who use it as a mechanism of control.
"The home needs a lot of support." says Ms. Pratt. Haven House is a non-profit initiative n that relies heavily on donations made by citizens an organizations. Ms. Pratt appeals to all persons, businesses and companies to donate as generously as they can. Items always needed are:
Food, personal care products and home supplies
Household appliances such as blenders, cake mixers etc. (For life skills training an income generation)
Clothing & footwear for women
Clothing & footwear for babies, children and teens
To donate:
MORE INFORMATION
Forms of Family Violence
Physical Abuse – Kicking, slapping, punching and grabbing or hitting with objects.
Sexual Abuse – Having sex with another person against his/her will or forcibly without protection as requested.
Economic Abuse – Taking control of all financial resources including the victim's wages or other income.
Psychological Abuse – Controlling his/her activities, isolating him or her from their family or constant name calling and insults.
Contact Numbers
Call 911 in case of an Emergency
Haven House Hotline: 222-4343
Women's Department
227-7397 – Belize City
804-2098 – San Ignacio Town
702-2021 – Punta Gorda Town
502-0038 – Dangriga Town
302-2058 – Orange Walk Town
402-2120 – Corozal Town
203-0970 – YES – Belize City  (Youth Enhancement Services)
203-1018 – BFLA – Belize City (Belize Family Life Association)
615-7010 – CDF – Belmopan (Child Development Foundation)
804-4562 – Mary Open Doors – San Ignacio Town
622-8671 – POWA – Dangriga Town
Contact numbers for Police Stations and Women's Department Countrywide
In the Photo: (L-R) Jossie Paz, Credit Officer, DFC | Staff, Haven House  | Natalie E-Wing Goff, General Manager, DFC | Mindy Pratt, Program Coordinator, Haven House |  Miguelina Poot Varela, Manager, Human Resources and General Affairs, DFC