August 31, 2018
Category:

News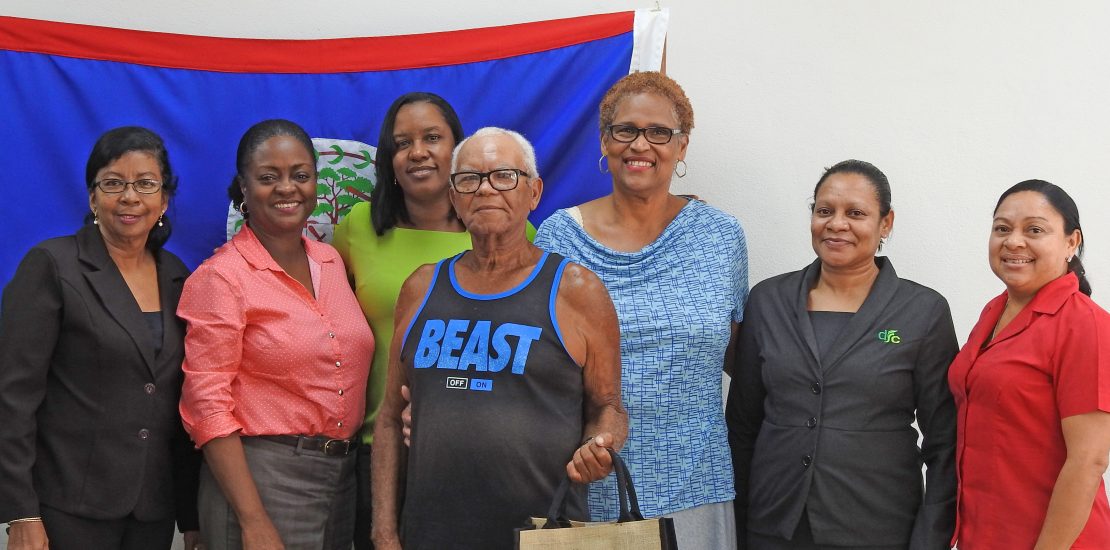 (Left to Right): Lizbeth Castillo,  Director | Natalie Ewing Goff, General Manager – DFC | Cherry Berry Perrera, Ag. Manager, Human Resources & General Affairs | Clive Peyrefitte, Awardee | Cathrene Zelaya, Corporate Secretary  | Dorita Codrington, Executive Secretary |  Eleanor Bodden Gillett, Director
Picture getting up at the crack of dawn every morning, Monday to Friday to be at a particular place at 6 a.m. sharp; and, returning again at 6 p.m. sharp, all to complete a singular task. Now picture yourself doing that same thing, rain or shine, feeling well or not feeling so well, for 43 years! That's Mr. Clive Peyrefitte, the gentleman who has been in service to raise the Belizean National Flag at DFC's Headquarters Office.
A humble and unassuming man, Mr. Peyrefitte embodies the virtues of duty and dedication. He moved to Belmopan with his wife in 1972 and hoisted the first flag to fly above DFC's Headquarter office in 1975. To this day, 43 years later, he continues to honor this noble act.
A driver by profession, Mr. Peyrefitte initially took on the task for the extra income it provided to support his wife and 7 children. To do so for 43 dutiful years, however, certainly speaks beyond the coin. "It is a sense of pride I have for my country," he says, "to see her flying bold and proud, brings joy to me." He raises the flag daily, ensuring that weather does not conquer the bursting colors of our nation's symbol.
And, if his personal dedication to country does not awe you, certainly his dedication to his beloved wife, Mrs. Elaine Peyrefitte and their children should. Married now for 55 years, Mr. And Mrs. Peyrefitte can be found taking their daily walk around the 'Ring' Road, and Sunday evening drives along the George Price Highway.
To honor Mr. Peyrefitte's continued dedication, The Board of Directors and Executive Management of the DFC recognized him on August 30th. "As we prepare for the September Celebrations to highlight our Belizean identity, for which the Flag of Belize is a very important symbol, we agree it is befitting that as part of our celebrations, we honour you and show our gratitude for your long years of service to the DFC. What we can award you is nothing compared to what you have given us" shared Mrs. Natalie Goff, General Manager of the DFC.
So come 6 a.m. tomorrow, when the air is cool, the shutters still closed and the streets are free, if you see Mr. Clive hoisting the flag in front of DFC, you now know the story of this humble, dedicated, honorable man.
Thank you, Sir. We all salute you for diligently and loyally providing these decades of service.