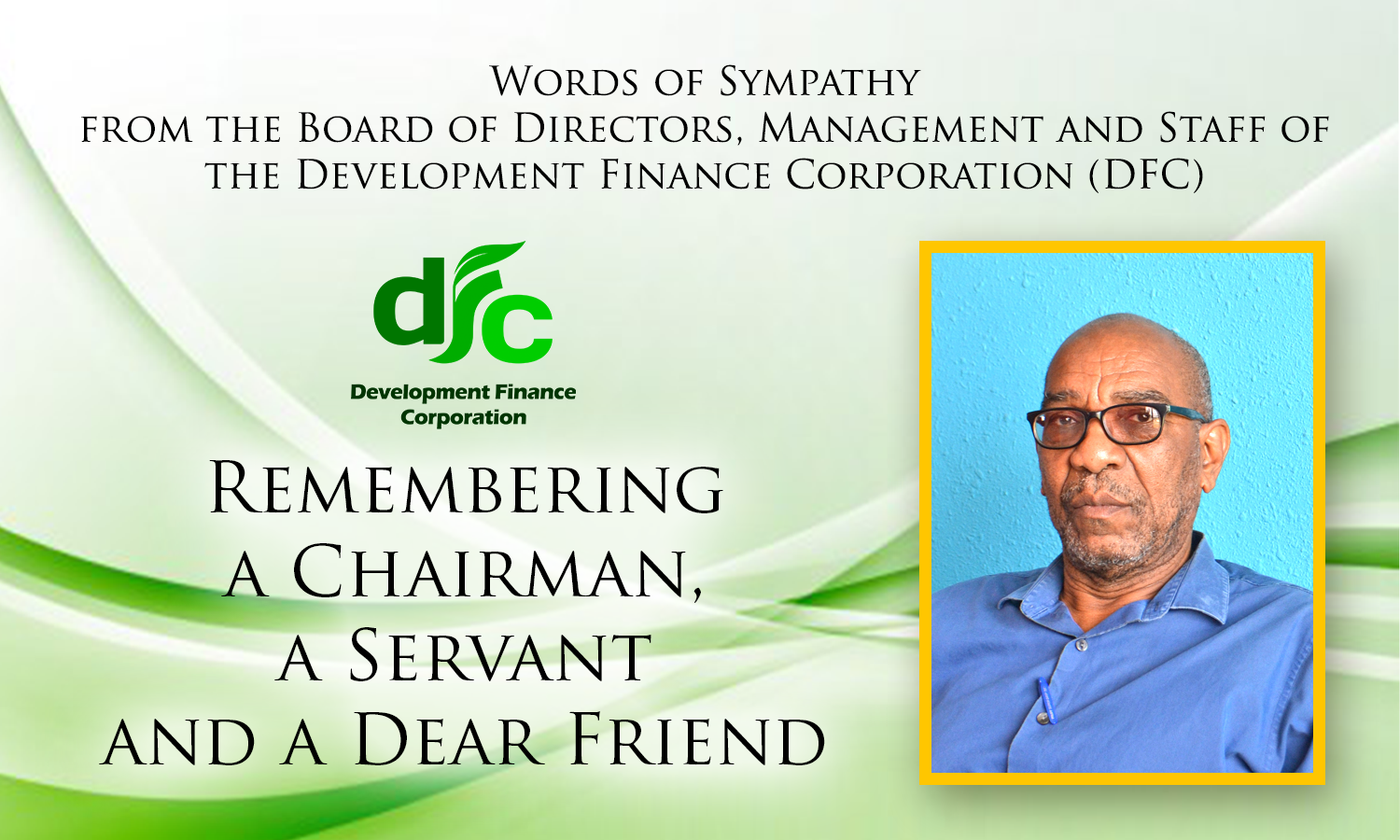 Dennis Jones, (DJ) as we all knew him, was first appointed as Chairman of the DFC Board of Directors on April 1st, 2012. He served in that capacity for two consecutive terms, or a total of six years, the maximum as permitted by the DFC Act. During his tenure, DJ gave stellar service to the Corporation, using his extensive knowledge of developmental economics, and small business development to advance the cause of MSMSE financing, especially to those who did not have access to financing. He also guarded the model governance framework, adopted by the DFC in 2009, like a hawk, ensuring strict adherence to the laws, policies and procedures that governed the Corporation.
The achievements of the DFC during his tenure as Chair were notable and included the development and rollout of a bold and innovative strategic development plan. However, invariably, when news of his passing was shared among the current and former members of the Board and staff last week, the reflections were of DJ, the man. His larger-than-life personality, which made all feel welcomed, his wit and energy, jovial and energetic personality, easy communication style, and the friend that he was to many.
The General Manager recalls a decision with significant impact when he insisted that DFC makes reserved space available for customer parking at its Headquarters Office. As simple a gesture as it seemed, it modeled the direction he wanted DFC to go in – a satisfying customer experience from beginning to end, starting in the parking lot.
A former Corporate Secretary recalls his many acts that displayed effective leadership and his commitment to good governance. These were clearly reflected in his dedication to his role of Chair. DFC's board meetings were a top priority for him, thus, he would miss a meeting only if he was too sick to attend or out of the country. She also recalls that he took the time to attend every staff social that DFC invited him to, most times with his beloved wife, Candy, at his side, and how he easily interacted with the staff at all levels. He would also take the time to enquire about the welfare of staff members, particularly those known to be seriously ill. For DJ, relationships at both the professional and personal levels were important.
One member of the Management team remembers him as the ultimate professional.
Another recalls how he welcomed him to Belize as a fellow CARICOM national with open arms and was always up for a philosophical or political discussion while maintaining his humor.
Several former directors of the board who served during his tenure as Chair recall his passion for development banking, and the heated discussions held around the board table. However, they ALL recall, without an exception, the fun-filled meetings he chaired, and how he interjected humor just when it was needed.
A former divisional head at the Caribbean Development Bank, who had to interact on many occasions with DJ, as Chairman of the DFC Board, described him as a devout regionalist. He recalls his openness to ideas and his very interactive and effective style of communication.
There is no doubt that Dennis Jones served his country well, in various capacities, and DFC is honored to have had him stop by. The achievements under his stewardship at the Corporation speak for themselves and they are captured in the tribute to him in the 2018 Annual Report. However, it is DJ the man, ……that we celebrate today. After it is all said and done, it is not only what we have achieved that will be our legacy but how we made others feel along the way. DJ strived to make everyone feel valued and for this, he will long be remembered.
Thank you, Chair. Thank you, DJ. It was our distinct pleasure to know you.
Our sincerest condolences to his beloved wife, Candy, his three beautiful daughters, who were the "apples of his eyes", other family members, friends, and everyone whose lives he impacted.
May he Rest in Peace.  May his memory be a blessing.