June 20, 2018
Category:

News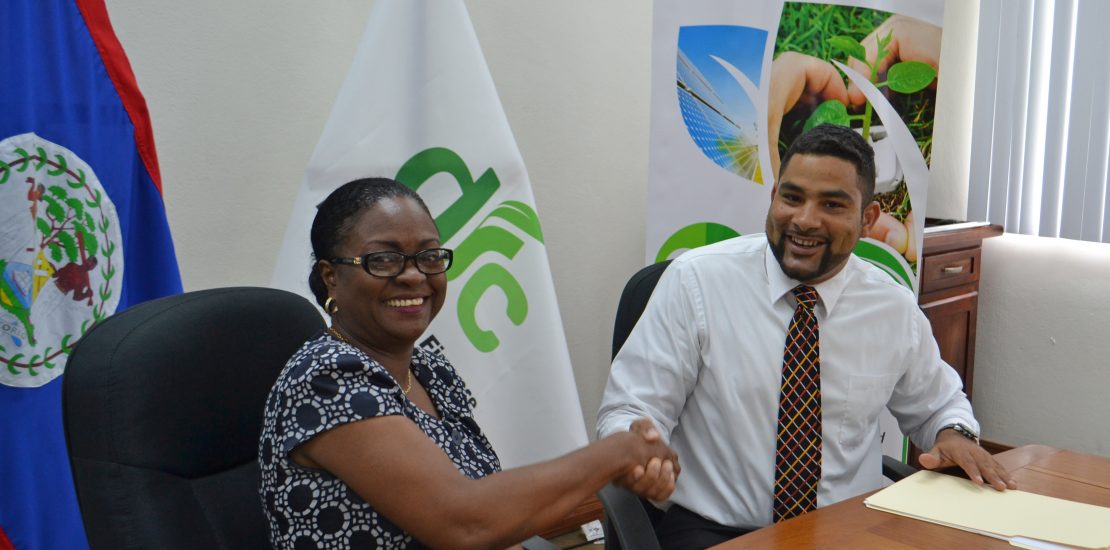 L-R: Mrs. Natalie EWing-Goff, General Manager, Development Finance Corporation and Mr.  Yashin Dujon, Chief Executive Officer, Ministry of Tourism and Civil Aviation
On June 20, 2018, The Ministry of Tourism and Civil Aviation (MTCA) and the Development Finance Corporation (DFC) signed a Memorandum of Understanding (MOU) to promote the uptake of Renewable Energy and Energy Efficiency (RE/EE) technologies in the Tourism Sector.
The Government of Belize has identified Renewable Energy/ Energy Efficiency (RE/EE) as a priority area for reducing Belize's energy intensity levels and for mitigating against the adverse impacts of climate change, consistent with the Belize's Strategic Development Goals, the National Sustainable Tourism Master Plan (NSTMP) 2012-2030, and the National Tourism Policy 2017-2027. Equally, under its Responsible Tourism Implementation Plan 2018-2022, the MTCA is working towards the uptake of RE/EE technology in the tourism sector.
Under the MOU, the MTCA and the DFC will Promote a National Campaign for Renewable Energy in the Tourism Sector with the MTCA actively promoting DFC's RE/EE lending product within their planning, product development, promotional programs and events.
The MTCA will share Tourism related data and other relevant information with the DFC to facilitate target marketing for the promotion of DFC's Renewable Energy Pilot Financing Facility. In signing, Mrs. Natalie Ewing-Goff, General Manager of the DFC stated, "What we would like to see is the impact. We would like in two (2) years to say that so many hotels have adopted the new technology and have seen the reduction in their utility bills and those monies can be used for some other facet of development within the Hotel industry, and that it can be replicated in other sectors of the economy."
Yashin Dujon, Chief Executive Officer for the Ministry of Tourism and Civil Aviation, expressed the commitment of his Ministry stating, "We're very excited and adamant about hitting the ground running and our strategic program aligns with this very well. We're focused on promoting responsible Tourism throughout the country in all facets; Renewable Energy, Renewable Resources and Human Development are all huge components of what we are geared towards."
The Development Finance Corporation and the Ministry of Tourism and Civil Aviation commit to this partnership for the long-term sustainable development of the Tourism Industry and Belize.  Interested parties can contact the DFC or the MTCA for further information.
Learn more about DFC's 6% Renewable Energy Financing here.